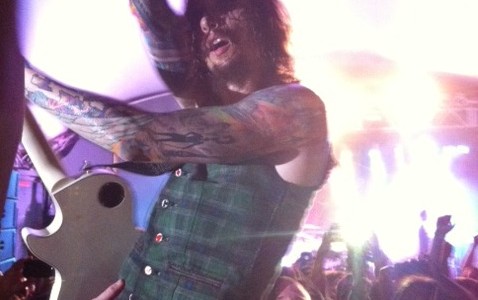 THE DARKNESS @ STUBBS (SHOW REVIEW)
It could have been 1978. Guys in jean jacket cut-offs with nothing but ink underneath, girls in tight spandex with glam makeup that would put Bowie to shame. The scene outside of Stubbs a couple of Fridays ago could have been cut from Richard Linklater's movie Dazed and Confused. Although the crowd could very well have been there to see Aerosmith, Thin Lizzy or Queen circa 1970, it was the British glam rock band The Darkness that they came for.
Well known for their electrifying live shows and their classic rock influences, The Darkness have finally returned to reclaim their title as 2004s and 2005s Best Live Act.  Despite a six year hiatus and nearly becoming a permanent resident in the "Where are they now?" file, the band has not lost its edge#.  Justin Hawkins, along with guitarist and brother Dan Hawkins, proved that their band can still turn it up to '11' and brought the same energetic spectacle of a rock show that put them on the map in the first place#. (See Spinal Tap for help with reference 1 and 2)
"I'm always pleased to see such beautiful looking women in the crowd," Hawkins said with an impish demeanor.  "It makes the show that much more special," he smirked as they launched into their first song "Black Shuck".
By the end of the first song, I knew I was in for something special.  I have run into people who still reminisce about seeing the Darkness play in '04 and '05 like my Grandma reminisces about gas prices.  Between Hawkins' stage antics, which included standing scissor kicks, parading through the crowd on the shoulders of a roadie while soloing and a fifteen foot stage dive off the top deck, I feel like I did not miss much in the time lapse.
Within the maelstrom of the 21-song set, the Darkness played through almost every song off of their debut Permission To Land and nearly half of their sophomore One Way Ticket To Hell. They also mixed in new songs like the future single "Every Inch of Me" and "Nothing's Gonna Stop Us", even treating the crowd to a heavy metal cover of Radiohead's "Street Spirit". The band was energetic, lively and, most importantly, incredibly grateful for the fans being there. Hawkins continuously thanked the crowd for being so supportive and enthusiastic.
Like a much needed shot of whiskey, the Darkness has given rock & roll purists a sense of relief.  Their hope lies in that maybe the days of guitar solos, blaring falsettos and stage theatrics have not completely surrendered to the cerebral and nonchalant acts that are prominent today. That maybe somewhere out there is a rock & roll messiah/ Freddie Mercury-incarnate who could revive the art of the classic rock show and thereby give rock a backbone again.  That maybe, just maybe, his name is Justin Hawkins.