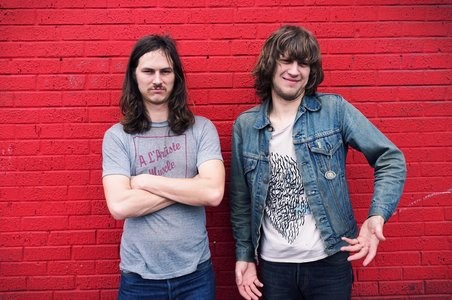 Jeff the Brotherhood – Austin, TX – (INTERVIEW 2013)
The last time you were in Austin you were on tour with the Kills.  Will you be back for SXSW this year?
Jake: No we don't do that anymore. CMJ, SXSW  and festivals like that are the worst.
Jamin: Yea we think we're done with that stuff.
Are you done with festivals altogether?
Jake: No, no we play festivals all the time. Its just the like music business-run, meat market type festivals, where you have to play 10 shows in 4 days.  And just get put through the grinder.  We don't need to do it any more, we've got all we need.
 You just came from the West coast, how was the drive?
Jake:  We just came in from LA, we drove straight through the desert, or Long Beach rather.  Long Beach was awesome.
Jamin: Yeah.
Jake: It was probably the best show on the tour.
Jamin: San Francisco was really good too.  
It's your 7th record in 10 years, which is career for most bands…
Jake:  (Laughs) This is just the beginning!
Where do you guys see yourself in a year?
Jake: We are just going to do what we do. Just try and keep our heads above water and do whatever feels good.
Your record company, Infinity Cat, has released almost 100 records now?
Jake: I think its 73 actually.  My dad and I work on it together.
Do you see the band or the record company as the bigger success?
Jake: The band by far, because the record label doesn't make any money and has been going just as long.  The band makes plenty of money, at least for us to live off of, but the record label is …. Fun.
Where did the title Hypnotic Knights come from?
Jamin: It's a flavor of daiquiri that you can get in New Orleans at our favorite daiquiri place.
How was working with Dan Auerbauch on the new record?
Jamin: We just fucked around.
Jake: Ya we just fucked around the studio.  I mean it wasn't that big of a difference.
Jamin: He was a like a third member of the band. It was good to have someone else around to help out and get us good sound.
You guys are getting pretty big, there is a rumor that you might get the call to play the Superbowl.
Jake: If we get the call for the Super Bowl I would freak. We get that call and I would freak.
Jamin: If we got a call from the super bowl …..we would turn it down.
Jake: That was last year but this year, this year lets do it.
Who would be your chosen collaborator for the SB?
Jamin: 2Chainz.
Jake: I wouldn't want to collaborate on the Super Bowl, I would want to just have it all for ourselves.
You guys are known for being a DIY band.  What's the most unconventional gig you've played?
Jake: Probably on a raft, in the middle of the ocean, in front of a floating stage.  Definitely the most unconventional right?
Jamin: Yeah
Speaking of unconventional, you guys just did a song with Insane Clown Posse and Jack White, who instigated that?
Jamin: Jacques White…Technically we were just hired session musicians, though not necessarily a collaboration, but whatever it was fun.
Are you playing any Juggalo festivals anytime soon?
Jake: Man if they asked us, and if it was enough money but I think it all depends on the offer.  That's how wed do festivals you know. Its gotta be a good offer you know it cant just be a few bucks.
So pick one of the two. Metallica or Sabbath?
Jamin: Sabbath
Jake: That's like saying either a ham or a pencil.  So I don't really know. Its kind of tough.
Jamin:  What do you like more, ham or a pencil? I like Sabbath more.
Jake:  I cant … I just cant…
PS3 or Xbox?
Jake: Ive never played on a PS3
Jamin: Xbox 360
Jake: We got an Xbox pretty recently and I've played it like twice. SO I guess id go with that.
Weezer or the Ramones?
Jake: Oh shit. Jamin: That's really hard
Jake:  The Ramones made more good albums.
Jamin: Ya id have to say I like the Ramones more.
Any particular favorite Austin hot spots?
Jake: There are two restaurants we always come to every time we are in Austin. Taqueria? Taquerias? I forget that one but what's the barbeque place?
Jamin:  Ironworks
Jake:  Ya Ironworks BBQ, that's really good.  We always stop there.
Have you checked out any record stores in town? 
Jake: Ya, Trailer Space and End of an Ear are some really good ones.  
No Waterloo?
Jake: Ya we've heard of that one. Its like the Amoeba of Austin.  They actually asked us to do an in-store showcase but we were still in LA.  
Any bands we should know about coming out of Nashville?
Jamin: Diarrhea Planet, Dr. Pepper Blues Band. and Jingle Bell Army they're  all from Nashville and awesome.
I see you are getting introduced to the state bird of Texas, the mosquito, so we're going to wrap this up. Thanks so much for being here.
Jake and Jamin: Thanks for having us ATX Music Mag.