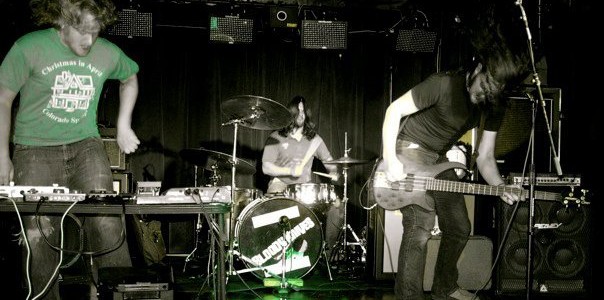 TOP TEN AUSTIN ELECTRONICA ACTS 2013
1. Bloody Knives
A high adrenaline electro-thrash duo with Shoegaze overtones, Bloody Kniveshave a unique, industrial synth-punk sound that transcends multiple genres. Preston Maddox and Jake McCown's intricate sound is as if you injected My Bloody Valentine with 300cc of amphetamine, gave them all synths, and sent them careening into a Dead Meadow concert. Their new album Blood is a beautiful and broken patchwork of noise, with 8-bit bleeps, soaring synths, and urgent drums that throttle through psych guitars and dreamy vocals.
2. Zorch
This cosmic duo played SXSW last year and set themselves apart from the rest of the hackneyed, meat-market bands with their infinite energy and unconventional live show. Zorch is an experimental odyssey that blends noise rock, synth pop, and various random samples into an eclectic sonic-induced soundscape of psychedelia and charisma of which there is no chance of escape.
3. Knifight
Since coming to Austin in 2010, Knifight has established itself as one of the premier electronic groups in town. By touting a darkwave sound that springs from the same vein of new wave influences like New Order, Joy Division, andthe Cure, they have set themselves apart from other upbeat electronic artists in Austin by writing songs about loss, love, and anguish. The quintet's live sound is impressive enough that they've landed opening slots for national artists likeM83, Com Truise, and Future Islands.
4. Orthy
Ian Orth, of the local ambient pop/electronica group Orthy, had made music for over a decade before he started producing tracks for his new project. Ian may be one of the brightest lights shining at this coming SXSW festival. His music swirls around subtle dance beats, celestial soundscapes, and Cut Copy-esque vocals that coalesce into an uplifting and infectious sound. Orthy's debut EPSuenos has recently been released, and they plan to keep their 2013 momentum going with a tour after their SXSW appearance.
5. SURVIVE
Nobody brings out the depth and power of the synthesizer quite like this popular local quartet. Their live show might be similar to watching four dark wizards methodically concoct skeletal-shaking, industrial electronica behind a fortress of analog synths. Having released their first self-titled EP a few months ago, and opened for bands like Silent Diane and Neon Indian, SURVIVE is certainly gathering momentum.
6. Missions
Formed in 2009, Missions has been a ubiquitous presence around Austin for the past few years. Missions experiments with dark disco rhythms, a heavy dose of analog synth, and 80's Depeche Mode beats that are as futuristic as they are catchy. They've released a new 7″ off of Pau Wau Records this past summer called "Darrk/Blakk"  that affirms their willingness to delve into a deep sinister vibe yet maintain melodic Nu-disco choruses.
7. Silent Diane
One of the more popular electronic bands in Austin, Silent Diane should have a big draw for their past SXSW shows. As pioneers of 'drag' music, or 'witch-house,' Silent Diane have made a name for themselves producing tracks that mix 80's dance beats with indie
gothtronica. Christine Aprile and Malcolm Elijahl have the right mix of steely synths, soaring vocals, and captivating stage presence to warrant a trip to see these homegrown gems.
8. Christeene
A local Austinite who blends New Orlean's bounce music with skank-step, Christeene is an Austin presence in the mold of Austin legend Leslie Cochran, and a music artist similar to Big Freedia. Her brutally graphic and sexual lyrics are as hilarious as they are addicting, with unconventional chorus lines like in "African Mayonnaise" that will leave sound bytes replaying in your head for days, not unlike fellow shock artists Die Antwoord. The shock value of her music videos and live show alone will generate some buzz at SXSW, but you might find yourself bootshakin' to this Austin queen's glam-electro by the end.
9. Xander Harris
This dark synth artist has distinguished himself from the rest of the darkwave or witch house genres in his tendency to incorporate cinematic sci-fi/horror instrumentals into his ominous electronica. His style of music fuses John Carpenter horror scores with driving synths right out of the movie Tron. After the successful release of Urban Gothic in 2011 and Chrysalid in 2012, Xander Harris has just released Snow Crash, a score to a Neal Stephenson novel of the same name. The gothic, lo-fi sound that Xander Harris emits has streaks of nostalgia but is thoroughly modern and refreshing.
10. Ssleeperhold
Blending classical music samples with dark industrial beats, Ssleeperhold is a one-man act that achieves an intense audio sound and has the ability to build tension in his beats and allay it just as fast. It sounds as if the Chemical Brothers, Crystal Castles, and Kraftwerk were fused into one man who can only express himself through a playground of synths, drum machines, and mixers. Ssleeperhold has shared bills with Xander Harris, Missions, SURVIVE, and Silent Diane, making him another vital part of the Austin vessel of dark electronica artists that will be on display at SXSW.