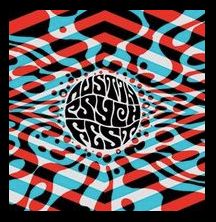 TOP 5 Reasons to go to PSYCH FEST 2013
A genre born within our own city, it is only appropriate that the annual mecca for psychedelic rock is held in the same town that gave birth to psych-pioneers like the 13th Floor Elevators, Shivas Headband, and Janis Joplin. Psych Fest, which for many years has been over-shadowed by the likes of ACL, SXSW & FFF, is going strong into its sixth year and has consistently booked massive headliner bands, proving the festival certainly has staying power. Headliners this year like Deerhunter, Raveonettes, Black Angels, and Black Rebel Motorcycle prove that this festival isn't going anywhere. but Psych music has branched out to encapsulate many distinct forms and permutations over the years, and but the core ethos of experimentation and mind expansion is consistent within all bands today.
#5 The Festival is NOW AT A RANCH!
For previous years the festival was held indoors, which was FINE, especially considering how small the first fests were. BUT NOW, the geniuses behind Psych Fest have expectantly moved the fest outdoors to Carson Creek Ranch in an effort to accommodate growing ticket sales and allow festival goers the luxury of taking in their psychedelic music with a beautiful outdoor ambience.
Camping is also available onsite available for the whole weekend = No DWI/DUI
#4 The United Nations of Psychedelia
Much like an MLS draft day or Victoria Secret lingerie show, this year's festival lineup is stacked on international talent. Brazil powerhouse OS Mutantes and Japan's Boris will be melting faces as expected. While Denmark's Raveonettes, Chile's The Holy Drug, and Sweden's Goat will all represent an eclectic contingent from outside the United States. This may be one of the few chances you will have to check out these foreign gems.
#3 Preshow Extravaganza
Psych Fest organizers weren't satisfied with just three days of mind blowing music this year– they had to add another round of pre-fest showcases for this Thurday night. In addition to the smorgasbord of bands playing Friday through Sunday, the Mohawk will be hosting Metz and A Place Top Bury Strangers while Red 7 will have the Allah-Lah's and Cosmonauts warming up the psychedelic weekend activities. Metz in particular
#2 Living Legends Reunite
Before he was in ZZ Top, Billy Gibbon's was part of the psychedelic Houston-based group, The Moving Sidewalks. Heavily influenced by Austin's own 13th Floor Elevators, The Moving Sidewalks had a string of regional hits and toured with Jimi Hendrix before breaking up in 1969. This weekend will mark the Sidewalk's first reunion concert in 44 years!!
In addition, the Silver Apples, a 60's duo that was one of the first groups to incorporate electronic components and synthesizers into their music will be playing again for the first time after having had a brief reunion in the mid-1990's.
#1 The MOTHERF****** BLACK ANGELS ARE HEADLINING!
Not only has this locally homegrown band cut their teeth in the Austin scene and blossomed into internationally renowned rock superstars, but the band members, Christian Bland and Alex Maas are also some of the original badass founders the Austin Psych Festival. The Black Angels have just released their fourth studio album, Indigo Dreams, which reeks beautifully of Pink Floyd and The Doors influenced revivalist rock. The Black Angels played the last official show in the soon-to-be-converted Seaholm Power Plant and are guaranteed to put on an epic show that would be a fallacy to miss.
Here is my favorite quote from Christian:
Bland: "It's revering the legacy of the psychedelic music that started here in Austin. We are preserving what started here and that's what its all about.Its like a Chia Pet. When you buy it, its dead. Sprinkle a little water on it and begins to grow."
Me: Is your Music was the 'water' reviving the 'Chia Pet' of Austin psych-rock.
Bland: "Well no. We're the acid rain that's falling on it. It might not fodder or foster a creative situation, but all we can hope for in the future is that people who hear it are like, What the f***?!?!…and then ……yes …YES… YES!…..YES!!!"