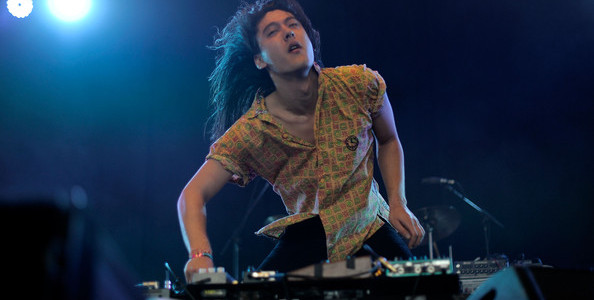 HEALTH @ Mohawk (Interview w/ John Famiglietti 2015)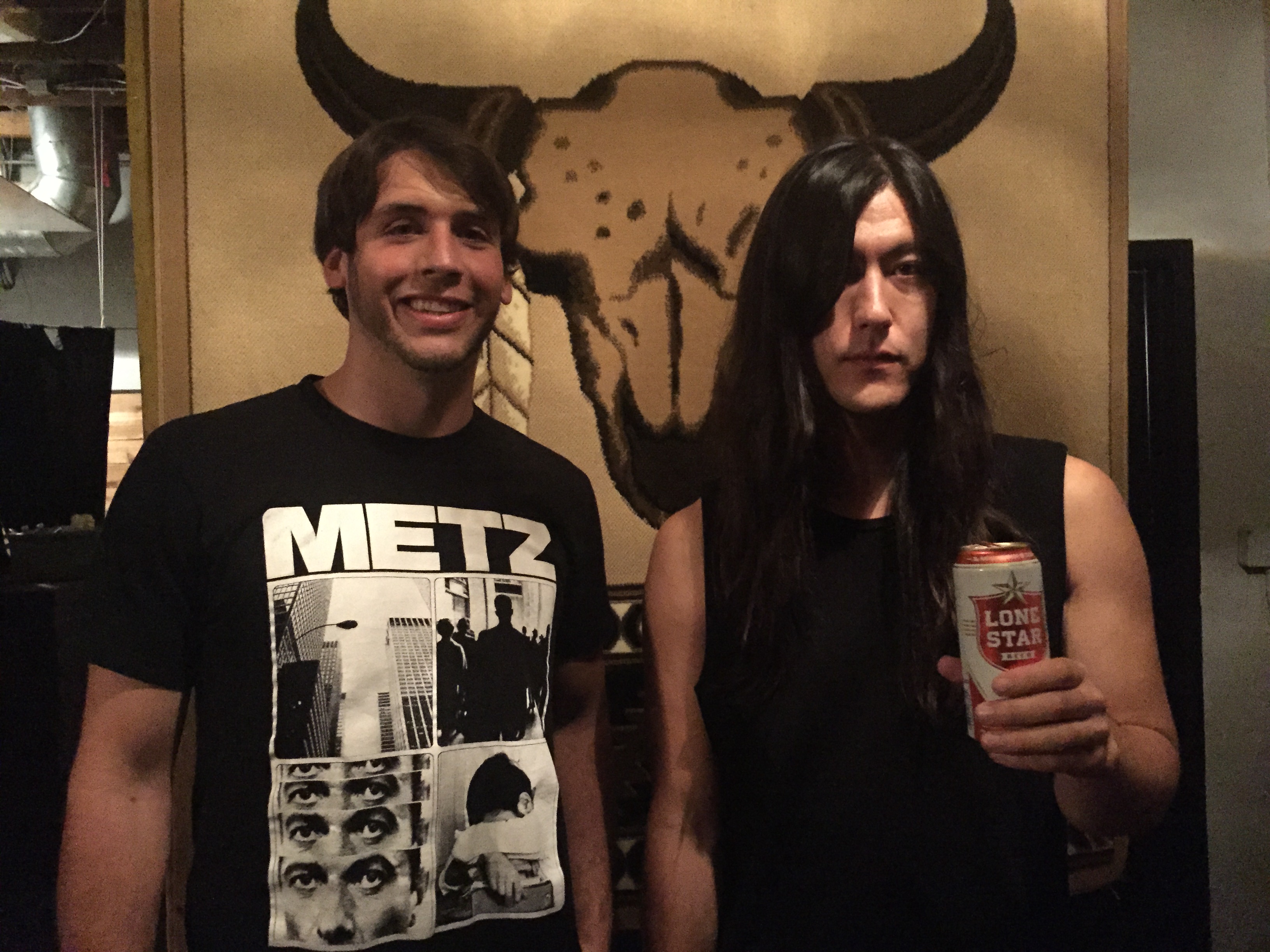 Interview with John Famiglietti of the band HEALTH
By: SlackerLee
So I want to start with the hardball questions….. What was it like meeting MTV veejay legend, John Norris, back in 2009?
That was actually awesome, he was an incredible interviewer   We were like, 'This guy interviewed president Clinton why is he interviewing us?'. He was cool as hell, and a really down to Earth guy.
It's been six years since HEALTH put out an album, what has transpired since?
A lot of it was trying to make, Death Magic. We decided that if we are going to make a record, we are going to do it right. There was no reason it was supposed to take that long, Max Payne production cut into that and touring as well. But there is a good two years that are unaccounted for, that are just our fault. At least it got done.
What did you fill those years up with?
You get older and things change. It was nothing crazy, like nobody was on heroin or anything. It would take so long, you would almost just forget. I'd be at a party having a good time and my mind would drift and I'd just go 'Holy Shit! I have to go home and figure out my life.'
Was the fan response severe because you had waited so long?
Yeah I mean, if I'm a fan of a band and they wait over four years to come out with another album, it was usually bad when they finally come back. In my head I'm thinking 'Is this it, did we really end this way? Fuck!' It was definitely in our minds. We have been really lucky that the fan response for the album has been overwhelming.
What our some of the new influences that factored into the sound of Death Magic?
The biggest influences have been new production, we've been trying to get this really slick electronic production sound. The funny thing is we wrote "Life" back in 2011 and although it was really poppy, it wasn't all that different from the stuff we were doing. We were trying to find a way to convert our sound to a more electronic streamlined theme, but we weren't that good at it. So I thought we need to bring a real producer. Nothing was too complicated but we just weren't pulling it off.
My fear was always that a younger band would come out and totally be doing our thing, but have that tweak that would make it more relevant or palatable, but thankfully that didn't happen.
You imagine a band Television and they were awesome, but then the Cars came out, and people were like 'This is like Television but way better, this guy can sing.' There is a zeitgeist, or a perfect version of what you were working on that comes out, and then it becomes huge
How has your experience been with Austin?
We love the city, we have friends here, we've played a ton here. I don't think we will play anymore SXSW anymore, because it's more for new bands but we love Austin. My friends always tell me "SXSW sucked this year! Its too corporate and we are never going back!' and then of course they are back the next year
If you could follow the trajectory of a band that you idolize, who would you most want to be like as far as creativity? 
I definitely idolize Metallica. They were super underground, they were always on the cutting edge of what they were doing, super energized, and then eventually got mainstream. That's amazing. We don't really have an analog as a band though, we've been around for a long time and we are still an underground band. I don't know a whole lot of bands that have taken this long of a break and came back and didn't go to total shit. So I guess we are doing are own thing.
That's typically a death knell for most bands.
Yeah I would never recommend it to anyone. Don't do it ever.
There have been comparison to you guys being a contemporary Linkin Park, would you rather knock someone out for saying that, or embrace it?
I don't like Linkin Park but if we had that level of success, then sure. I mean…. Okay. Hybrid Theory was on the Billboard 200 for like 10-15 years or something. I definitely would like that impact. But man I really don't like Linkin Park, so that is really hard for me to say.
Something that did transpire while you were on sabbatical was Crystal Castles breaking up. Are you on Team Ethan or Team Alice?
That's really complicated. Obviously our bandmate is in a relationship with her. So when your parents get divorced… you know. In terms of the rest of the band, we don't want to be part of any drama, we don't want to be a footnote, we don't want to be the Slightly Stoopid to the Sublime of Crystal Castles.
Have you ever considered turning your twitter into a comedic standup act?
It is really hard to standup. I idolize standup comedians, but I think it must be insanely hard. Good standup takes like 15 years to get good. That's a horrifying idea. To go up there and be like 'What's the deal with that?'. I fantasize about it but I don't think I would be very good. Because you have to be really good. The power of jokes is the first time you hear them, it would suck if we wrote some songs and they were only good the first time you hear them.
You are a good-looking guy, how does that work on the road?
I would tell everyone having a girlfriend when you are on tour really blows, mostly because your girlfriend is pissed all the time, even if you aren't doing anything or are just working your ass off. There are always resentments. However I do have a girlfriend.
Johnny Jewel is from my hometown, Houston, and I always wondered if you thought about collaborating with him?
I didn't know he was from Houston, we love Indian Jewelry from there too.
We use to fantasize about working with him, because we are huge Glass Candy and Chromatics fans, and in the lates 2000s he was taking over, so we thought we could go up to Portland and make an EP. It seems like he is just doing his own thing, but we are huge admirers.
What are some things you love about Austin?
Barton Springs, huge fan of that. I love breakfast tacos, and also migas, we don't have that in LA. I like Lone Star a lot. I like girls in Austin, because they are really forward and very cool. I love this town.
Beer or Wine?
Wine, but I drink beer way more often. I guess wine is nicer but I love a Mexican beer.
Witchhouse or Chillwave?
Witchhouse
Donald Trump or Coffee Enema?
He's a rich dick and I guess a coffee enema would make me feel better afterward, maybe? Do I hang out with the Donald or what is the context.
You get him as your president?
Coffee enema absolutely.
Butthole or Vagina?
I love the ass…hole, but the vagine is still #1 because it has walls, but I do love the service entrance too. In terms of all the time, I love the vagine.
Dead Kennedys or Black Flag?
Dead Kennedys, that is really hard though.
Rather be tickled or put in bondage?
Tickled.
Lord of the Rings or Star Wars?
As movies or mythologies?
Mythologies.
High fantasy is kind of my thing so I would have to go with LOTR but Star Wars are definitely better movies.
The Cure or Smiths?
Smiths.
Depeche Mode or Nine Inch Nails?
Depeche Mode.
Austin or LA?
I have never lived here, I think I would like living here. I have all of my stuff in LA, so I think I'll just stay in LA. But the girls are super cool in Austin.