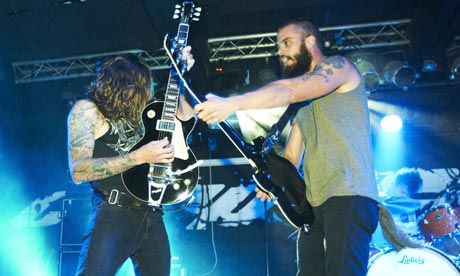 BARONESS @ THE MOHAWK – AUSTIN,TX – 12/6/15 (SHOW REVIEW)
By: SlackerLee 
The average music fan goes to see live music for entertainment, and the explanation on why we pay money to see it doesn't get any simpler than that. Yet, the ethos of why bands choose to play can be a wide spectrum of reasons and impulses. We conveniently assume musicians play because of the umbrella label of their 'love of music', but the true ethos of their inspiration is a blend of passion, community, artistry, desperation, entrepreneurship, therapy, showmanship, extroversion, and the list runs on. Baroness is a band that simply needs to play. Their sold out show on Sunday night at the Mohawk was a genuine reflection of their candid and unique style of metal, which involves no frills, no posturing, no projecting, and no false macho-metal bullshit.
While I have seen Baroness play in front of hundreds of people, for some reason they chose to play the Mohawk inside, which barely allowed for 100 people, but set the stage for an intimate experience. The band was involved in a near-fatal bus crash in England three years ago that severely injured two band members and, in all actuality, should have killed all four. The prescience, urgency, and complete dedication to the their live shows is in part due to this brush with mortality. The band expressed their gratitude to their fans early on, with lead singer John Baizely saying, "Thanks for being here! We're going to play some music, so make some fucking noise!"
Opening songs like "The Sweetest Curse" and "March To The Sea" were indomitable and anthemic, roiling the crowd into a frenzied mosh. The beauty of Baroness is found in their song structure, which can begin with beautiful acoustic soundscapes and pensive instrumentals, only to erupt into skull-rattling, testosterone-heavy warrior cries.
Songs off their upcoming release, Purple Album, were well-received, especially the Pink Floyd-esque "Chlorine and Wine" and adrenaline-injection, "Shock Me". The epoch of the set could be found in the awe-inspiring "Cocainium", as well as "Eula", which was dedicated to an Austinite passenger in the 2012 bus crash, who was present at the show.
There are few front men like John Baizley and Pete Adams who engage the audience so openly, feeding off its energy but then reciprocating it exponentially. Their guitar strings are seemingly connected to their veins, amps to their spines, and eyes light up in an electrifying intensity. None of their expressions feel like gimmicks or forced in any way. An internal gratitude shines through them and a resilient strength permeates.
After a brief respite, Baroness returned to decimate the crowd with a two song encore that the crowd seemed to be waiting for. "Isak", an older song, which comes off their debut album, is headbanger gold, while "Take My Bones Away" is a juggernaut that is cathartic in its intensity.
John Baizley showed his gratitude to the Austin crowd saying "We've been coming to Austin since 2006 when we played Emo's inside. We didn't know if we would be able to tour again. Thank you!" It is evident that the members of Baroness live and breathe their music and don't feel the need to insult their audience by putting on airs, emanating a mutual respect that is genuine as it is refreshing. Walking out of the show, the whole band stood outside and casually chatted with their fans, and it became increasingly clear why Baroness chose the more intimate inside stage.