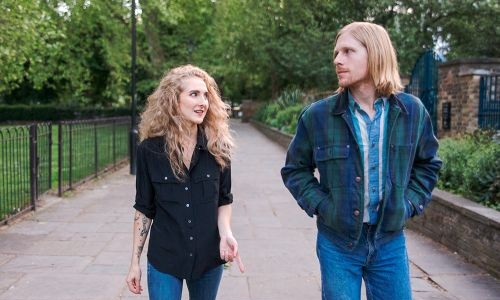 TENNIS- The Parish – (SHOW REVIEW)
The Denver-based dream-pop group, Tennis , was finally able to circle back to Austin to play their first official concert that was not warped by intense scheduling and the utter insanity of SXSW. Citing their disdain for the truncated sets and poor sound quality at their shows during SXSW week, the husband-and-wife duo more than made up for their lack of previous Texas shows by entrancing a sold-out Austin crowd, May 8th at the Parish.
I arrived at the venue midway through set of indie newcomers, Vacationer, a band that was off my radar, yet had more than their fair share of followers swaying to their sonic-induced ambient rhythms. Vacationer sounds like the electro-pop group, Body Language, or a more danceable Animal Collective. They put on an impressive second half-set, but the crowd was noticeably itching for the much anticipated headliner to assume the stage.
Awkwardly stumbling onto the stage in high heels with a bashful yet endearing demeanor, vocalist Alaina Moore greeted the Austin crowd.
"This is the first time I've ever performed in high heels," said Moore. "It's my birthday tomorrow, so I figured I'd dress up to celebrate."
And celebrate she did. Tennis alternated between songs from their successful nautical-themed debut album Cape Dory, and their equally sun-bleached '60s pop follow-up album, Young and Old. Deftly maneuvering through older hits like "South Carolina" and "Take Me Somewhere" while showcasing newer gems like the jazzy "Petition" and piano-laden "Origins".
Alaina, with her Robert Plant-esque golden curls, exudes the presence of an old 1920s flapper lounge singer with her wistful yet powerful vocals. The polished and nostalgic melodies of Tennis effortlessly washed over the Parish crowd, emanating the warmth of a summer day at the beach on the weekday crowd. Tennis possesses a magnetism that many of their sun-bleached pop contemporaries lack, and it is their ability to share happy and peaceful experiences with us that ensures their success and hopefully, plenty of future shows in Austin.