Dwight Howard @ Super Bowl LI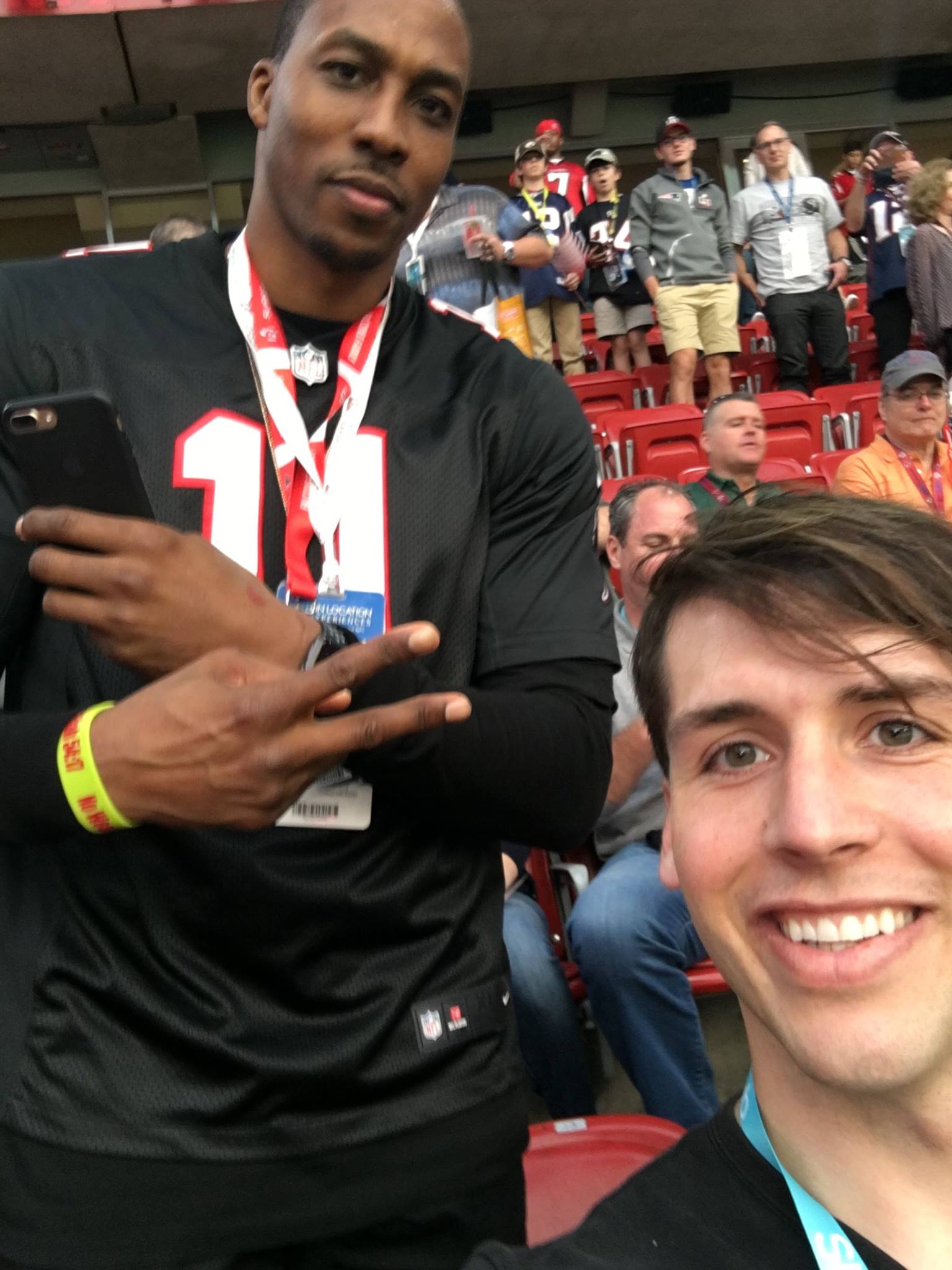 Here's an interesting/memorable story behind this picture that happened at the Super Bowl on Sunday:
Dwight Howard walks into our section at NRG stadium before kickoff, and as a Rockets fan, I have a mixed reaction. Dwight's uninspired play, toxic locker room presence, and ugly departure from the Rockets last year made him one of the most hated figures in Houston sports (The man tried to have James Harden traded!), he also has burned Orlando and LA in a similar fashion and has a reputation of coming up short in big games and as Kobe once said 'being soft'. However he is undoubtedly one of the leagues biggest superstars and personalities.
So when Dwight and his Atlanta Hawks teammates ended up sitting a couple rows right behind me, I took the chance to talk to the big fella and grab a picture before the crowd swarmed him. I congratulated him on a come-from-behind victory the Hawks had Thursday night against the Rockets, and he quipped back " Well ya'll just gave up, no surprise there"
I'm not going to say Dwight's chippy comment didn't factor in when I posted the photo on instagram with a hashtag #SoftestCenterInTheNBA, but it might have. Needless to say my snipe wouldn't go unnoticed, as right before the end of the 2nd quarter, I got a heavy tap on my shoulder and turned around to see Dwight's 7 ft. frame and bowling ball shoulders bearing down on me with a look of pure animosity.
Dwight: "Hey buddy you might want to think about changing your Instagram post."
Paul Millsap, Tim Hardaway, Mike Scott and the Atlanta Hawks bench were also honed in on me as well, just in case their NBA center needed backup☺
I tried to deescalate, quick.
Me: "Hey man, I'm a Rockets fan, I'm just talking some smack. I respect you, but those are Kobe's words not mine."
Dwight: " You don't know me. I took a picture with you and that's what you write?"
Me: (Now in a full out-of-body experience) "I'm sorry man. I respect you. I'm just giving you sh** as a Rocket's fan. Ya'll beat us Thursday. You're proving it on the court this season."
Dwight: (nods, half-accepting my apology, and finally leaning back into his chair)
"Alright… Alright… Well change the post then."
Dwight's Teammate, Taurean Prince: "YOU GOT FIVE MINUTES!"
Me: (Choosing not to go to the brink with an NBA team, promptly changes the Insta hashtag from #SoftestCenterInTheNBA to #BestCenterInTheNBA)
I point to my phone and give Dwight a thumbs-up and after he checks his phone, he finally cracks a smile. An unrelated fight breaks out a few rows over between a Pats and Falcons fan and the tension between us dissipates. Apparently Dwight spent most of the game looking through posts of himself including the hashtag I used for him: #superman.
Two lessons here: 1.)Trolling people on social media is bad karma. 2.) If you're going to troll someone, targeting a social media-savvy 7ft NBA center who is within arms-reach is a losing strategy.